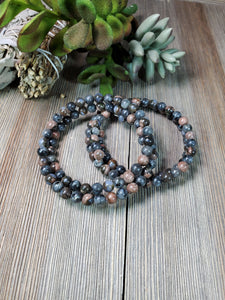 These wire wraps are a mix of opal and labradorite.
Opal is an emotional stone and reflects the mood of the wearer. It intensifies emotions and releases inhibitions. Encourages both freedom and independence. Opal enhances cosmic consciousness and induces psychic and mystical visions. It stimulates originality and creativity. Helps to release anger and claim self worth, aiding in accessing and expressing one's true self. Opal strengthens memory. It encourages an interest in the arts. Wearing Opal brings loyalty, faithfulness and spontaneity.
Opal strengthens the will to live and treats infections and fevers. Purifying the blood and kidneys, Opal also regulates insulin. It eases childbirth and alleviates PMS.
A stone of transformation, Labradorite is a useful companion through change, imparting strength and perseverance. It balances and protects the aura, raises consciousness and grounds spiritual energies. Excellent for strengthening intuition - promoting psychic abilities. Powerful in revealing the truth behind illusions, Labradorite banishes fears and insecurities, and strengthens faith in the self and trust in the universe. It stimulates the imagination and calms an overactive mind, developing enthusiasm and new ideas.
Labradorite treats disorders of the eyes and brain, stimulates mental acuity, and relieves anxiety and stress. It regulates metabolism, balances hormones and relieves menstrual tension. Labradorite treats colds, gout, and rheumatism, lowers blood pressure, and aids in digestion.
Not evaluated by the fda or any governing entity.