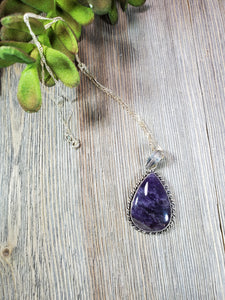 Dark, Grade AA, Amethyst tear drop pendant on 24 inch chain with lobster clasps. This is a medium size, roughly quarter width at their widest. 
Amethyst may also help with:
Anxiety, stress, bruising, circulation, insomnia, balances out highs and lows, promoting emotional centering. It dispels anger, rage, fear, and anxiety. Alleviating sadness and grief, it supports coming to terms with loss. 
These statements have not been evaluated by the Food and Drug Administration. This product is not intended to diagnose, treat, cure, or prevent any disease.